Have you ever wondered how local pet retailers are using
Astro Offers

to add 20-25% extra revenue?

Well now is the time for answers!
Learn how Astro Offers works and how quickly you can be up and running brand-funded promotions in your store.


How to find and use our Done-For-You marketing content to drive more sales - we do most of the work for you!


Discover why Astro Offers is the number 1 FREE way to add extra revenue to your store and grow.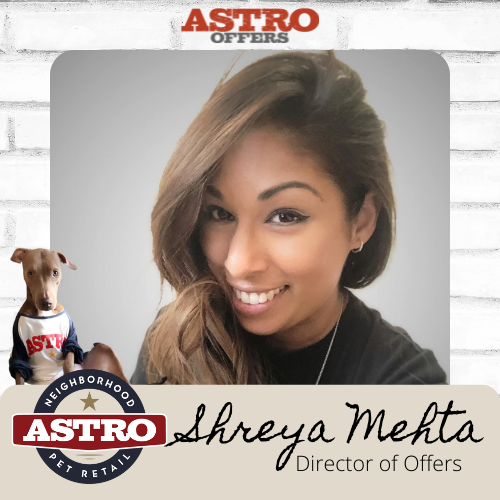 Speaker
Shreya Mehta
Director of Offers

The Power of Independent Pet Marketing at your Fingertips.
No Design Skills Needed. Just Drag, Drop, Point, & Click.
It's done-for-you campaigning designed exclusively for the Neighborhood Pet Shop because no one knows you as we do!
Astro Marketing harnesses the power of the marketing teams behind your favorite brands and places those horses in your stable. All you need to do is hitch those horses to your wagon - and away you go!
With just a couple of clicks, you can quickly customize a pet-themed campaign from our rotating calendar, and deliver it to your customers via the communication method they choose!
Astro Marketing takes the overthinking out of marketing. It's decisions when you need them, and choices when you want them.
We're so much more than just email marketing!